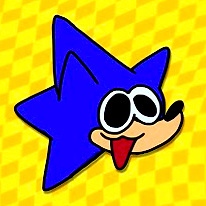 Friday Night Funkin' vs Sonk.rom
95,719 Speelt
Hoe speel je Friday Night Funkin' vs Sonk.rom?
FNF vs Sonk.rom is een één-liedje Friday Night Funkin' mod over een bepaalde hacker bekend als Sonk. Wees voorzichtig en laat je computer niet hacken!
Vriendje was op straat, toen hij een Windows 95 laptop in de vuilnisbak vond, dus nam hij die mee naar huis en zette de PC aan. Toen hij op de desktop zat, een klein ventje genaamd Sonk (volledige naam Sonk.rom), schijnt het dat de vorige eigenaar van de laptop bevriend was met de maker van de Sonk romhack en het bestand kreeg, dat toen hij Sonic 1 probeerde te hacken, een serieus Virus werd.
Dus sloot Boyfriend de PC aan op het internet en aangezien er een webcam op zat, besloot Sonk op te zoeken wie het was en toen hij ontdekte dat het een beroemd figuur was die met veel mensen zingt, besloot hij een venster te openen en met Boyfriend te zingen.
Wie heeft Friday Night Funkin' vs Sonk.rom gemaakt?
Deze MOD is gemaakt door Bluespike (Director, Coder en Charter), Splatoon Logan (Artist, Animator en Coding Assistant), axlturo_punkin (Musician), Riceeeeeee (Artist en Dio Ideas), Hembot (Made Icons and Helped to make the logo) en Kirby Popstar (Made the character Sonk.rom).

Minitorneos, chat & make friends
🕹️ Welke games zijn vergelijkbaar met Friday Night Funkin' vs Sonk.rom?
❤️ Welke zijn de nieuwste %categorie% die lijken op Friday Night Funkin' vs Sonk.rom?
🔥 Wat zijn de meest gespeelde games zoals Friday Night Funkin' vs Sonk.rom?