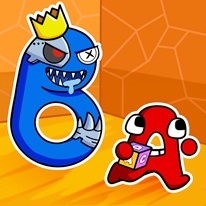 Rainbow But It's Alphabet Lore
69,177 Speelt
Hoe speel je Rainbow But It's Alphabet Lore?
Rainbow But It's Alphabet Lore is een overlevingsspel waarin je verdwaalt in een klaslokaal dat geregeerd wordt door alfabetmonsters.
Je verandert in een letterkarakter om je bij andere karakters aan te sluiten en opdrachten uit te voeren om uit de kamer te ontsnappen. Alle letters van het alfabet kunnen worden omgezet in een karakter, zodat je degene kunt kiezen die je het leukst vindt. Je kunt een ondeugende P, een trage Q of een nieuwsgierige Y worden.
Wat zijn de belangrijkste kenmerken van Rainbow But It's Alphabet Lore?
Prachtige letterafbeeldingen: alles wat je in deze wereld ziet zijn letters van het alfabet.
Soepele besturing: Het alfabetische overlevingsspel zal zeer bevredigend zijn om te ervaren.
Dagelijkse updates: Nieuwe levels worden dagelijks bijgewerkt, zodat je alfabetspel eeuwig kan doorgaan.
Meer dan 100 levels: veel alfabetische uitdagingen om te ontdekken.
Verschillende eindbaasgevechten: angstaanjagende eindbazen wachten op je, durf jij het tegen ze op te nemen?
Eenvoudige gameplay: Het spel is eenvoudig te spelen, laten we samen uit de kamer ontsnappen.
Beschikbaar voor zowel kinderen als volwassenen: Alfabet legende spel voor iedereen.
Het is compatibel met zowel uw computer als uw telefoon of tablet.
Wie heeft Rainbow ontwikkeld? Het is Alfabet Lore.
Bin Studio heeft dit waanzinnig leuke avonturenspel gemaakt.
Minitorneos, chat & make friends
🕹️ Welke games zijn vergelijkbaar met Rainbow But It's Alphabet Lore?
❤️ Welke zijn de nieuwste %categorie% die lijken op Rainbow But It's Alphabet Lore?